Surabaya Traditional Markets
Pasar Blauran Traditional Market
Missing traditional food? Blauran is heaven of Surabaya's typical food and beverage heaven. It is Blauran Street-Center of Surabaya, made available multifarious traditional snack like klanting, putu, rujak cingur, lontong balap, tahu campur, tahu tek, rujak gobet, jajan pasar, and semanggi suroboyo. While for beverage, for example dawet, legen, and dawet campur. Surabaya Traditional Markets
Pasar Turi Traditional Market
This market which is one of merchants option especially from outside island. It is a middle low grocery shopping centre. four floors with the wide parking lot. It located near by Surabaya Monument of Warrior. Multifarious goods are sold here which are domestic goods, cloth, haberdasherry, clothes, electronic appliance, ceramic, work equipments, crafting, etc, which can be bought by either through party and also retail. In the other hand, it also own wide exhibition hall.
Pasar Atum Traditional Market
If you live in Northern Surabaya, try to stop by to Atum Market, grocery center for middle class with wide parking lot. There are shop facilities, supermarket, restaurants, discotique, swimming pool, children playground, expenditure, beauty salon, local snack, fast food, coffee shop, bankquet, shop, cinema, exhibition hall, etc.
Pasar Keputran Traditional Market
Looking for fresh and cheap vegetable and flesh? Keputran is a correct place. This market is in Keputran Streetin SurabayaCenterregion. Keputran is also known as center of vegetable grocery to most Surabayapeople. Open at 18.00 up to 05.00 in the morning. Besides as grocery, all seller also can serve the retailing in very cheap price. Surabaya Traditional Markets
Pasar Kapasan Baru Traditional Market
It is not complete if we go travel without expense, just try visiting Kapasan Baru Market. This market is in Kapasan Street-Center of Surabaya. Selling the goods at the cutting price. Goods are sold for example convection, fundamental requirement, gold and silver crafting, and others.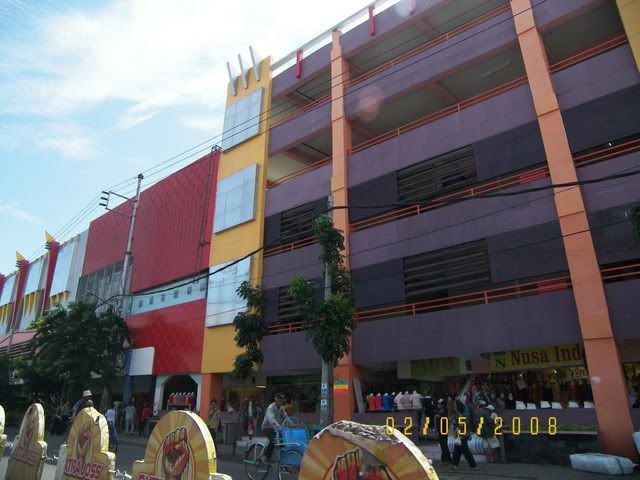 Pasar Genteng Traditional Market
Confuse in searching Surabaya's typical presents, and at one blow wish to buy electronic goods? No need to confuse, because only Genteng Market you can get all of them. Representing center of electronic goods and located in Genteng Besar street- Center on Surabaya. It has shop facilities, electronic repair equipments, restaurans, various sea food like prawn crisply, eggplant crisply, sea-cucumber crisply, and others.
Hopefully this information is useful for those of you who want to travel to Surabaya, Indonesia.
Surabaya Traditional Markets, Happy shopping….